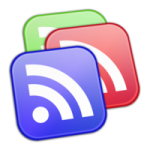 When I take my lunch break during my work day, I like to go read the blogs various of my friends have created.  It's easiest to use an rss-based feed reader for this purpose:  no fumbling around among bookmarks to find my faves, and no having to rely on the blogrolls on any one blog. Further, it has been even easier to collect my favorite subscriptions by keeping them all in one cloud-based reader.
Google Reader has been that cloud storage aggregator.
RSS, in case you are wondering, stands for "Rich Site Summary." It is a standard for publishing web pages that are updated often. It can be used, for example, for blog entries, news stories, and podcasts.  It is written in "xml", a markup language that is human readable but intended for machine processing.
For all practical purposes, you can think of the "machine" as being a software application, such as the aforementioned rss aggregator.  You provide the aggregation software with a series of special links, known as "feeds," to your favorite blogs or news sites , and it will go off and spider through those sites pulling in  new content. When you wish to read the blogs, you launch the application which then shows it to you in some pleasant, readable fashion.
Authors who use standard blog-creating software, such as WordPress or the Blogger/WordPress sites, usually get the xml code that comprises a "feed" created automatically when the publish their blog entries.  For example, a Blogspot blog has its xml "feed" stored here: http://(name-of-blog).blogspot.com/feeds/posts/default, whereas a WordPress blog looks like http://(name-of-blog).wordpress.com/feed/. You can sometimes get the link by clicking a little "radio wave" symbol that might be provided on the page somewhere. The image is similar to the Google Reader logo shown at the top of this article.
Google Reader was nice, not so much because I would use the the site directly, but because the app I do use on my smartphone can sync with Google Reader, making that the logical one place to store my feed collection.
Google, however, recently announced that as of July 1, 2013, they will be shutting the Reader doors.  This has made a lot of journalists unhappy. They rely on the simplistic interface of the Reader to scan through their favorite news sources to gather fodder for whatever project they were working.
Thankfully, they've quickly found replacements.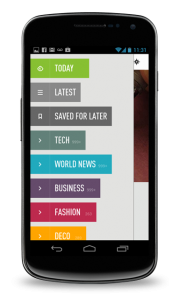 I tried Feedly on my smartphone, and I like it — and people who use iPods, smartphones, and tablets and like to read blogs, news articles, or whatever, might find this interesting.  I like it because it has a very pretty tiled interface that's easily navigated with clever little swipe flourishes.  I sync'd it up with Google Reader straight off — grab them feeds while I still can!  I'm hoping my favorite podcast app will switch over to Feedly for syncing as well. Every time I've had to factory reset my phone, or get replacement phone, I've relied heavily on being able to get my feeds set up quickly.
Opening the app, I felt as though I were reading a magazine and flipping through pages. I went to see Paula's latest cupcake review and enjoyed the crisp images and clean text presented in this reader. (Images are from the Feedly site, not screenshots from my devices)